Hold on y'all!! This is going to be the adventure of a lifetime. We are travelling back in time. Golden Valley was named after a company from Hollywood, California, that went into partnership with Crystal Collins to develop most of the land south of Arizona State Route 68 into 2.5-acre (1.0 ha) parcels.
UTV Offroad Adventures presents Desert Frenzy UTV Fest. You won't want to miss this weekend filled with adventure! This three-day event will take you on some of the most scenic trails Arizona has to offer in safe and organized manner. We will provide guided trails, meals, quick draw poker, corn hole tournament, raffles, and lots of fun, laughs and good times. Designed for all age groups and UTV experience. Come and see what we are all about and meet new and old friends. We will take you on a night ride and guided trail rides all while raising money for local charities
All activities will be held at the Saddle Sore Ranch.
One of the rides will take us to the town of Oatman, AZ. This town was founded in 1906, and by 1931, the mines had produced more than 1.8 million ounces of gold. Located in Arizona, south of Las Vegas in Mohave County. Although, anyone could tell you that it is in the middle of nowhere! It became a booming city by the gold rush of 1915 to 1917, but things soon slowed down, and in 1941, the United States government ordered all mines closed due to World War II.
You can visit the abandoned mine; there are organized tours for a visit. To this day, the mine is operated as a hobby by two older people. Although it does not give them much benefit, it gives them enough to pay for the beers they drink according to them.
Oatman is also known for the wild burros that call Oatman home. This town with an old western appearance has been an enjoyable place and a tourist attraction for the burros wandering around with springiness. The wild donkeys can be hand-fed with 'burro chow', naturally known as hay cubes, which are readily available in the town.
The other ride will take you to several make shifts bars out in the middle of no where and one has a striper pole. Many points of interests along this ride and this will be a ride you will never forget.
We hope you can join us for this adventure back in time!
News:
We have a Host Hotel for this event if you are not camping. It will be 20 miles from Saddle Sore Ranch but you are welcome to leave your SxS and trail at Saddle Sore Ranch and drive back and forth.
The rate for the group will be $140 plus tax. Their rates over that weekends are higher due to things going on in Kingman so instead of offering a 15% discount which would bring the rates to $147, $184, & $176. They decided to offer our group a better rate at $140 plus tax. Make sure to mention that you are with UTV Offroad Adventures.
Brittney Gish | GM | [email protected]
Best Western Plus Kings Inn & Suites
2930 East Andy Devine | Kingman, AZ 86401
P: (928) 753-6101 | F: (928) 753-6192
Reservations: (800) 750-6101
Best Western Hotels & Resorts® | bestwestern.com
Make sure to bring 5 gallon jugs of fuel because there are no close gas stations. So please make sure to bring extra fuel for each ride.
There is a $20 per day camping fee at Saddle Sore Ranch. Please select camping and number of days needed when registering for the event. If you prefer not to camp, the closest hotels would be in Kingman about 20 miles away.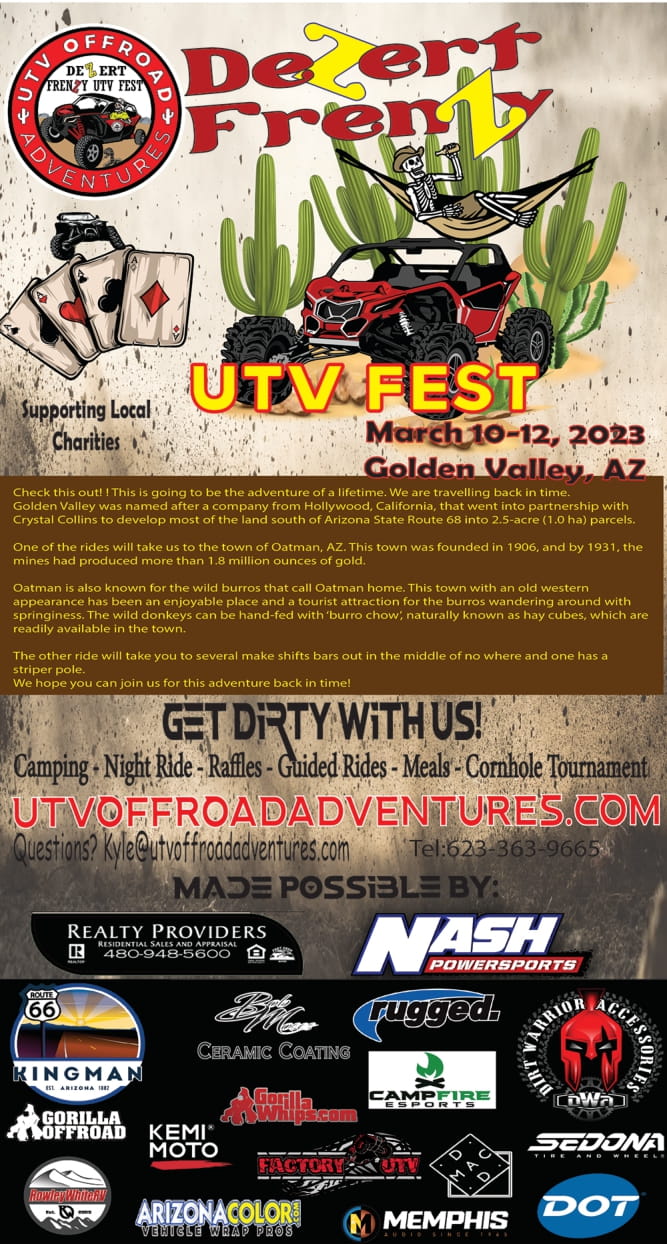 2023 Schedule